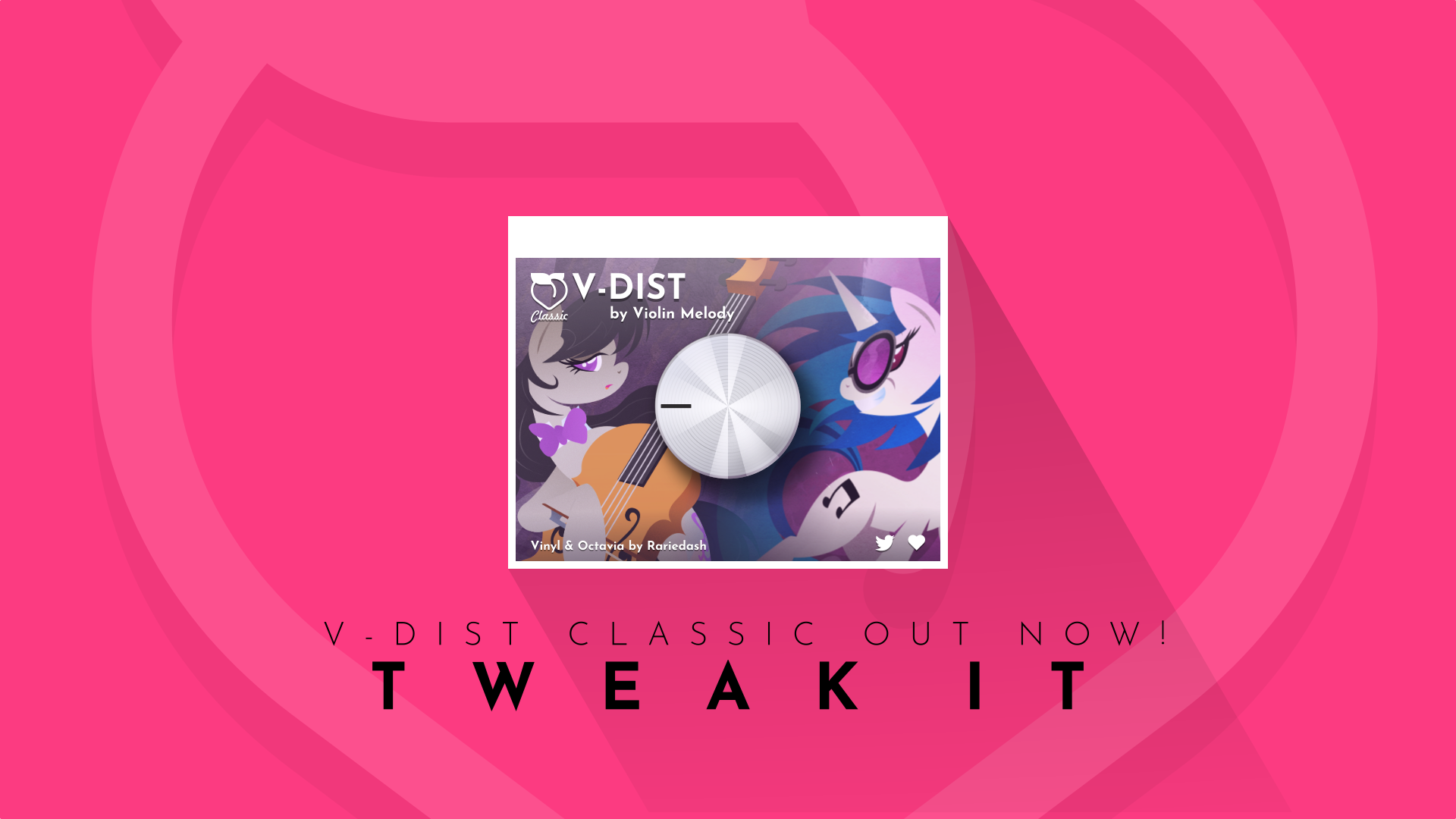 VDist Classic FREE & PRO
A downloadable VST plugin for Windows
The only distortion (& 1st ever brony) plugin you really need!
Your classic V-Dist experience in new package - previously only available on my website, now on itch.io & better than before!
It is a 64bit & 32bit VST plugin for Windows, it requires compatible host (DAW) able to load VST plugins.

Current version: 1.2.1 (view changelog)
❤ Downloaded over 6000 times! Thank you! ❤
❤ As seen on Computer Music Japan & Gearnews ❤

👉 Best with original dedicated MIDI controller!


💄 BE GLAM & EXPRESS YOUR TASTE
Pick one of 4 separate skins from base, FREE edition* - they are purely cosmetic.

All of them can be later on replaced and will work with previous projects so you don't need to worry in case you want to change V-Dist to different look.
Or if you want further control, get your hands (or hooves... or paws) on V-Dist PRO which adds additional functionality like oversampling, banana mode and allows you to individually control input & output gain!

👉 Classic PRO (COMING SOON)
File called: "VDist PRO" v1.x.x"
👉 Classic (FREE) 🔥🔥🔥
File called: "VDist Classic v.1.2.1"
- Glasses & Bow (activated by pressing on it)
- Boopable snouts

👉 GOTN (FREE)
File called: "VDist GOTN v.1.2.1"
- Magic horns (activated by pressing on Luna & Twili)
- Moon & City are hiding something


👉 SEAPonyCon Edition (FREE)
File called: "VDist SEAPonyCon Edition v.1.2.1"
- Light (activated by pressing on bg)
- No secrets, I promise ;)

👉 #PRIDE Edition (FREE)
File called: "VDist (Everypony's Gay) #PRIDE Edition v.1.2.1"
- Rainbow pride hashtag (activated by pressing on it)
- Boopable snout & belt


✨ GAIN FURTHER CONTROL
With two separate gain knobs you gain fully independent control over the input and output volume, sweet!

🍌 TASTE THE BANANA
Too edgy output? Turn on the banana mode and let V-Dist soften your audio milkshake by rounding the corners of distorted signal! No more bleeding ears, unless you want it!

🎯 ENJOY OVERSAMPLING
Get most out of your sound! Pro tip: combine it with 🍌 mode for cleaner output.
💋 EMBRACE THE DARK THEME & MINIMALISTIC UI
Love working at night & prefer when UI is not burning your eyes? I do too, and because of that V-Dist PRO has new, redefined UI that looks good in your DAW. No more tired eyes!

💜✔ EFFORTLESSLY UPDATE FROM FREE TO PRO
Replace V-Dist FREE (or any other previous version) with PRO & enjoy your old projects with additional features & without any issues!
Once you open project containing V-Dist FREE, V-Dist PRO will be loaded instead and it will keep your settings untouched - the output sound stays exactly the same you remember, but now you'll be able to do even more - get creative with additional functionality!



🍑 EVEN MORE JUICY~
V-Dist Classic redefines your experience by making working with plugin 20% cooler!
Meet refreshed design! With new UI & so sexy big knob you no longer need magnifier to use V-Dist on full HD screen! Just load it in your project and feel the power of this fresh fruit!

👓 REACTIVE VINYL GLASSES
Look at Vinyl! Her glasses are reactive! Use them to determine how fat your mix is - the more purple they get, the better!
🎀 TAVI'S GLOWING BOW
She has something for you too! Press on her bow to make it glow! Use it to feel the rhythm of your soul!

⌛✔ BACKWARD COMPATIBLE
V-Dist Classic was designed in a way to let you update easily! You don't need to worry about anything, simply replace previous installation with new version and enjoy your beloved V-Dist in it's full glory! Your old projects are safe and sound!


🦄 V-DIST CLASSIC

It's an amazing one-knob distortion plugin that will make a true sausage from your audio. Approved by DJ Pon3, hated by Octavia. A must have tool for every legit brony producer!
Pro Tip: For best results use on the master channel & push the knob to the right as much as possible.

👉 Check out the video demos at https://violinmelody.net/plugins/vdist/

👉 Follow it on Twitter: https://twitter.com/VDistVST

💜 LOVE THIS PROJECT?
You can support it, and my other future projects here, thank you <3
👉 https://ko-fi.com/violinmelody



✨ ONE KNOB 2 RULE'EM ALL!
With super-duper OneKnob2SausageDemAllTM technology you can literally push your mix to the limits! Simply tweak it to your taste and enjoy that fat distorted sound!

👍 TESTED WITH POPULAR DAWS***
V-Dist works well with any modern DAW that supports VST PlugIns** – simply install V-Dist plugin and load it in your favourite DAW, no matter if it's FL Studio, Ableton Live or Waveform/Tracktion.

🎢 LIGHTWEIGHT & FAST!
V-Dist is coded in C++ and it uses unique algorithm that was crafted to work fast & provide best results. Audio is being processed in real-time so no delay is happening therefore there is no need for PDC, sweet!

---
DISCLAIMER:
This website and plugin is not endorsed by, directly affiliated with, maintained, authorized, or sponsored by any company All product and company names are the registered trademarks of their original owners
* V-Dist exists in 5 different editions, 4 of them are completely free and purely cosmetic (just different skins):
- Classic,
- GOTN Edition,
- SEAPonyCon Edition,
- #PRIDE Edition.
However there's also 5th edition called "Classic PRO" which is a pro version of this plugin with additional features
** VST PlugIn Technology by Steinberg
*** FL Studio, Ableton Live and Tracktion Waveform logos are the registered trademarks of their original owners – these DAWs are listed only to show with which ones V-Dist was officially tested – it may also work with other DAWs that support VST technology
---
| | |
| --- | --- |
| Status | Released |
| Category | Tool |
| Platforms | Windows |
| Release date | Aug 06, 2017 |
| Rating | |
| Author | MISS VIOLIN MELODY 💜 |
| Made with | Paint.net, FL Studio, Inkscape |
| Tags | Audio, audio-plugin, daw, Effects, mlp, Music, Music Production, plugin, sound, VST |
| Average session | A few seconds |
| Inputs | Mouse, MIDI controller |
| Accessibility | One button |
| Links | Homepage, Twitter |
Download
Click download now to get access to the following files:
🍑 [FREE] VDist Classic v.1.2.1
11 MB
🌙 [FREE] VDist GOTN v.1.2.1
14 MB
💛 [FREE] VDist SEAPonyCon Edition v.1.2.1
9 MB
🌈 [FREE] VDist (Everypony's Gay) #PRIDE Edition v.1.2.1
12 MB